Memorial Day is fast approaching. Would you like your kids to understand the meaning of Memorial Day and still have some fun? If so, here are some Family Friendly Things To Do For Memorial Day in Broward County.
Date: May 31, 2021 at 10:15am
Location: Bergeron Rodeo Grounds, 4201 Rodeo Way Davie, FL 33314
When is the last time you went to a traditional parade? I am sure it has been awhile. For some old fashioned Memorial Day fun, go to the Memorial Day Parade and Ceremony at Bergeron Rodeo Grounds. Grab your flag, wave at the floats, and honor the service men and women that have worked hard to protect this country.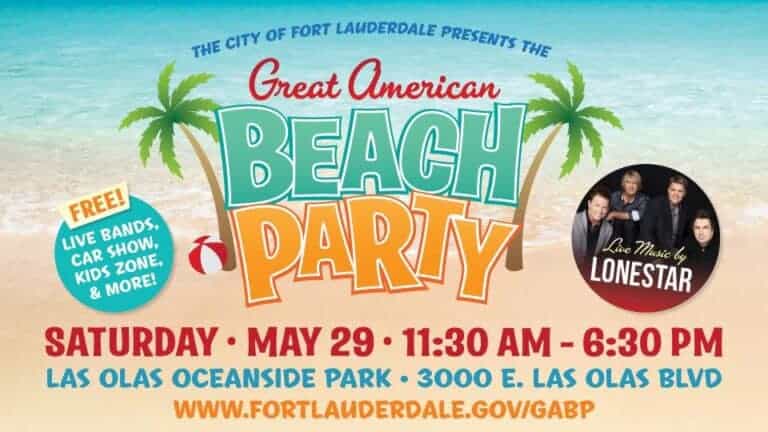 Date: Saturday May 29, 2021 – 11:30am to 6:30pm
Location: Las Olas Oceanside Park, 3000 E Las Olas Boulevard, Fort Lauderdale, FL 33316
You may be wondering what does a Beach Party have to do with Memorial Day. This beach party includes an aerial parachute demonstration by the SOCOM Para-Commandos Parachute and a Tribute to the Armed Forces. In addition, kids can also enjoy the following:
Live bands,
Kids zone,
Classic car show,
Sand sculpting demonstration,
Art show,
Interactive Art Experiences to Honor the troops, and
Petting zoo.
3. Memorial Day Ceremony at Fletcher Park in Pembroke Pines
Date: May 31st at 9:00am
Location: Fletcher Park, 7960 Johnson Street Pembroke Pines, FL 33026
Attend this Memorial Day Observance Ceremony to honor past and present US Veterans. There will be a Presentation of Colors by the Pembroke Pines Police and Fire Honor Guard.
After you discuss the importance of Memorial Day to your kid(s), you can explain that this park was dedicated in the memory of Donnith H. Fletcher. He was the first person from Pembroke Pines to be killed in the Vietnam War.
One of the features of the park is a playground. After the formal ceremonies are over, have a picnic in the park or let the kids play in the playground. This will allow you to combine a little bit of education and a little bit of fun.
To find more Memorial Day Ceremonies in Broward County, please go to The Kid On The Go, Memorial Day 2021.
4. Pause For A Minute For National Moment of Silence
Date: 3/31/2021 at 3pm
Location: Anywhere
At 3pm on Memorial Day, everyone takes one minute to be silent and honor those who have died in service to the nation. No matter what your family decides to do on Memorial Day, at 3pm, take a one minute to be silent and honor those who died in service to the nation.
This provides you with flexibility to do any activity and still acknowledge those that gave up their life for our freedom.

Date: May 29, 2021 at 9:45am
Location: The Real Food Academy, 570 NE 81st Street, Miami FL 33138
Are you tired of doing all of the cooking on Memorial Day? Let the kids help out. Kids can prepare some food they can share with the family for Memorial Day. Kids learn to prepare Crispy Baked Chicken Wings, no potato salad and an American Flag Watermelon Cake.
6. Say Thanks To A Vet
If your family knows a veteran, have your kid personally "Thank" them for their service.
Conclusion
There are so many possibilities for teaching your kids about Memorial Day and having fun at the same time. Whatever you decide to do, appreciate that we have the freedom to do these things. Have a great day!
This article is from The Kid On The Go. If you are interested in more kid friendly things to do on the weekend, go to The Kid On The Go – Weekend Events.